Length: 9.5 mile
Elevation Change: 1300' cumulative elevation gain
Season: Summer thru Fall
Difficulty: Challenging
Permit: NWF Pass Required



Features:

Click for PDF Topo Map of this Hike

Here is a fabulous hike that somehow missed the destruction of the many forest fires that flanked this area on nearly all sides.

The hike to Santiam Lake takes a person right next to Duffy Lake, so I include that portion of the hike in this description.

The entire hike is a moderate climb through large old growth timber and into a verdent near alpine setting with incredible wildflower displays in the summer to fabulous fall colors in the autumn time of the year.

The trail follows the North Fork of the Santiam River all the way to Duffy Lake. As you near the lake, the trail will cross the small stream with little or no difficulty.

After exploring the Duffy Lake area, follow the trail to Santiam Lake. In the summer you will step over a small stream, then enter into fields of wildflowers, before entering back into the wooded areas. The trail gets a bit steep as you near Santiam Lake, but nothing significant.

From Santiam Lake you can look to the southwest at Maxwell Butte, and to the east at Three Finger Jack. From the south bank of the lake, you can look north to see the top of Mt. Jefferson peaking over the shoulder of Red Butte, which is on the northeastern shore of Mowich Lake.

Mosquitos are a pest in the summer, but soon die out by fall. So, come prepared. There are several camp sites at both lakes and plenty of fish in the lakes.

Hikers of all ages should be able to enjoy this adventure.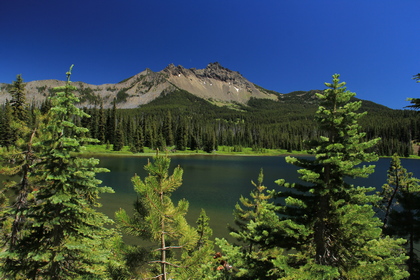 Three Finger Jack from Santiam Lake
How to get there:

From Detroit Lake, continue east on Oregon Hwy 22 until you reach milepost 75. The road to the trailhead for this hike is on the left between MP75 and MP76. Follow Forest Road 2267 for about 2.6 miles, then FR2267 takes a left turn, down a bit of a slope and into a looping parking area complete with a new restroom.