Length: Varies
Elevation Change: Varies
Season: Nearly Year-round
Difficulty: Easy to Moderate
Permit: State Park Pass Required


Features: Here is another Oregon State Park gem. Nearly any season you choose to enjoy hiking in this park, you will not be sorry. For this website, I chose to park in the main parking area and do a figure eight loop hike which includes most of the major waterfalls.

I did the hike counter-clockwise. Beginning at the main parking area, I went east toward Winter Falls and followed the paved trail down into the valley. Then I headed east to North Falls and Upper North Falls. Then I hiked the Rim Trail back to the top of Winter Falls, descending again to the bridge. Then instead of heading east, this time I went west and completed the figure 8 loop, ending up at South Falls and the place where I parked my vehicle. The photos tell you more than my words, so ENJOY!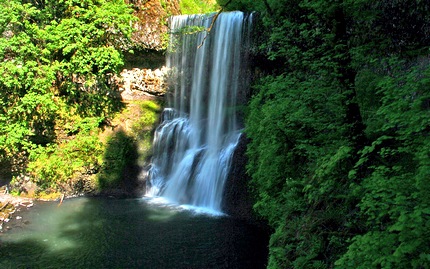 Lower South Falls on Silver Creek