Length: 5.5 miles round trip
Elevation Change: 1603' gain
Season: Spring thru Fall
Difficulty: Challenging
Permit: No Pass Required


Features: Here is a real gem of a hike that you will not regret taking the time to get there. The trail head is a few miles off US 26 just a bit east of the junction of Oregon Hwy 53 and US 26.

Saddle Mtn Hike is an awesome little stroll up a rather steep rocky outcropping locate in the northwestern corner of the state of Oregon. In the spring, usually during the month of May, the wildflowers along this hike are just spectacular.

The trail is excellent and well maintained. There are flush toilet restrooms at the trailhead and several picnic tables. Even though the trail is rather steep at times, for the most part it is well switch backed and offers good footing. There are three picnic tables strategically placed along the trail as you make the ascent. As you climb to the top of Saddle Mountain, the views just get better and better.

From the summit you get a fabulous 360 degree view ranging from the Pacific Ocean to the west to Mt Rainier, Mt St Helens, Mt Hood, and Mt Jefferson.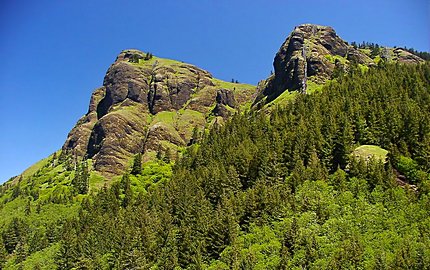 Saddle Mountain