THE FOLLOWING MAP IS NOT TO BE USED FOR NAVIGATIONAL PURPOSES.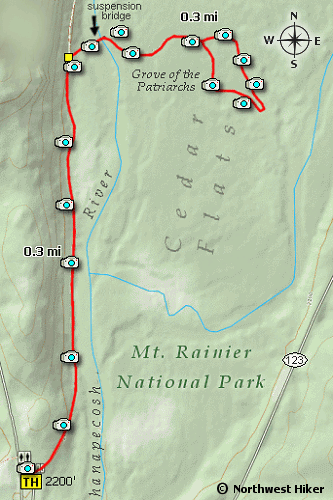 Map of the Grove of the Patriarchs Hike
Length: 1.5 mile RT
Elevation Change: 50' cumulative elevation gain
Season: Summer thru Fall
Difficulty: Easy
Permit: National Park Pass Required
GPS: N46 8.784, W121 5.575
Latitude: 46.7782
Longitude: -121.5575


ATTENTION:

The Grove of the Patriarchs is CLOSED to all public entry effective November 17, 2021 and until further notice, due to flooding which caused significant damage to the suspension bridge that provides the only safe access to the area.

The Grove will remain closed until the bridge can be replaced, which will first require engineers to reevaluate the changing river flow to ensure a safe bridge design. It is not expected to be open for the 2022 or 2023 summer seasons. The Grove of the Patriarchs parking lot and restrooms will have normal seasonal access, along with the Eastside and Silver Falls Trails.
Features:

This little nature trail hike is perfect for families with small children and/or senior citizens.

There are information plaques along the trail to explain to you what makes up this unique and ancient forest. And the Ohanapechosh River runs through the area, adding a special charm to this friendly hike.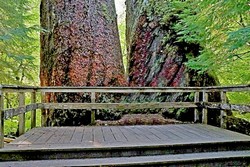 As noted at the beginning of this description, the spring rains were hard on the trail and the viewing places, so you will be sure to ask the park services if the area is open, before heading out to this adventure.


Suspension Bridge across Ohanapechosh River
How to get there: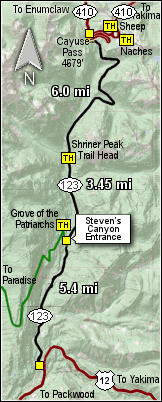 The Grove of the Patriarchs trailhead is located just northwest of the Steven's Canyon approach to the Mt. Rainier National Park, which is 5.4 miles north of US Hwy 12.