Length: 6.5 Miles round trip
Elevation Change: 900' Cumulative Elevation gain
Season: Late Spring thru Late Fall
Difficulty: Moderate
Permit: NW Forest Pass Required
Volcano Alert Call this number to see if this trail is closed: 360-449-7800
Features:

NEW!
Click for PDF Topo Map of this Hike

Because Forest Road 8123 is washed out, the trail head to Sheep Canyon has to begin at this point. For this CD I just hiked to the canyon and did not do the loop up the canyon and over to the South Fork of the Toutle River and back.

Take note that crossing Coldsprings Creek can be a challenge, and it might be a good idea to carry a pair of sneakers with you to use to cross the stream. That way your boots stay dry, and probably you will stay dry by not slipping off a log or rock and falling into the creek.

The advantage to hiking to Sheep Canyon from this location is you get to enjoy Blue Lake along the way. As you approach Blue Lake from a distance, it really looks blue. However, when you get to the lake, the color turns to a brilliant green. After your visit to this small lake, keep on Trail #238 and continue on to Sheep Canyon.

After Blue Lake, the trail gets a lot steeper. There are a couple switchbacks that make the climb much easier. Most of the first 2 miles of this hike are through dense forest. At about 2 miles you begin to catch views of Mt St Helens.

At about 2.5 miles you will come to the junction of Trail #237, which can be an alternative route back to the trail head where you began. However, at this point, keep straight ahead. This is also the high point in the hike. So, now you begin to descend.

The trail drops about 300 feet as it enters Sheep Canyon.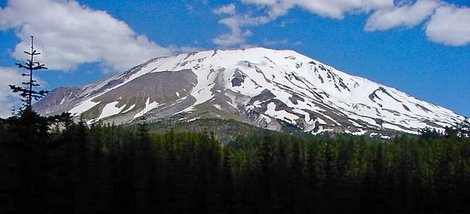 Mt St Helens as seen from the Sheep Canyon trail
How to get there:
NEW!
Click for PDF Directions Map of this Hike
From Woodland, WA
From the junction with I-5 follow SR503 east from Woodland, WA approximately 23 miles to the junction of the Lewis River Road with SR503. Continue east on the Lewis River Road another 4.4 miles to the junction of Forest Road 81 just before you get to Cougar. Turn left and follow FR81 for about 11.5 miles to the junction of Forest Roads 81 and 8123. Turn left on FR8123. In about 1.7 miles you will pass the road that leads to the parking area for this hike on your right.