Length: 1.6 mi RT
Elevation Change: 200' gain
Season: Summer thru Fall
Difficulty: Easy
Permit: Yakima Nation Pass Required
Features:

NEW!
Click for PDF Topo Map of this Hike

In this same area as the Little Mt. Adams and Ridge of Wonders hike is another wonderful, less agressive hike to Heart Lake. Just park along BIA Road 208 as noted on the map, and head up Hellroaring Canyon along the southern side until you reach Hellroaring Meadow.

The trail then splits off and heads across a couple of small creeks to the north and finally to Heart Lake. This is a spectacular spot to visit and makes a fun family outing, if the two creeks aren't to high.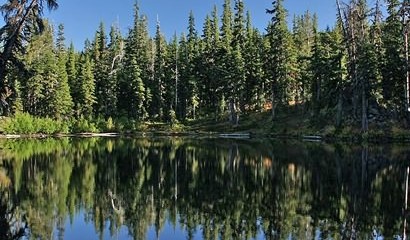 Heart Lake in Hellroaring Canyon
How to get there:
From Portland, OR
From Portland, travel east on Interstate Hwy 84 to Exit 64 at Hood River. Turn left, and pass under the freeway and cross the toll bridge ($2.00) into Washington state. Turn left onto SR14 and drive approximately 1.5 miles to state road 141 Alt. Turn right onto SR141 Alt. and follow it another 2 miles and merge bearing left onto SR141. Then travel north on SR141 for another 19 miles to Trout Lake and the junction to Mt. Adams Road, which heads north to other hike destinations.

from Trout Lake, WA
Bear right and forward onto Mt. Adams Road for about 1.3 miles and you come to the junction with Forest Road 23. Bear right and continue on Mt. Adams Road, which is also Forest Road 82, for another half mile or so, and when you come to Forest Road 80, bear again to the right and stay on FR82. To reach the Bird Creek Meadows area, just stay on FR82 for another 8.3 miles past FR80. At this point, FR82 turns into the Bureau of Indian Affairs Road 285 as well as FR8290.

Continue on BIA285 for another 4.2 miles and you will come to Mirror Lake and the junction of BIA304 which takes you to Bird Lake. Continue another mile and you will pass the parking area and trailhead for Bird Creek Meadows on your left. BIA 208 now becomes extremely challenging, and heads down a steep rough grade for about 3/4 of a mile to the trailhead for Heart Lake, which will be on your left side while going downhill toward Bench Lake.