Length: 5.5 mi RT
Elevation Change: 700' gain
Season: Mid-summer thru Fall
Difficulty: Moderate
Permit: NW Forest Pass Not Required
Features:

NEW!
Click for PDF Topo Map of this Hike

This is a hike that often gets overlooked because of the more popular Thomas Lake or Cultus Camp approach to Indian Heaven. But, make no such mistake. This is possibly the very best way to access the Indian Heaven Wilderness.

The trail is easy to get to and the trail itself is a gentle and well maintained. If you do this hike in early summer, there will be an abundance of water and several little bridges that you will cross over to keep your feet dry.

Even though I show this hike as nearly going to Junction Lake, obviously you can use this approach to do a variety of hikes within the wilderness. The day my friends and I did this hike, we headed on over to Deep Lake, via the Lemei Lake cutoff trail, then came back past Clear Lake, Deer Lake, Bear Lake, and even headed over to Elk Lake.

See Hike 63 for these details.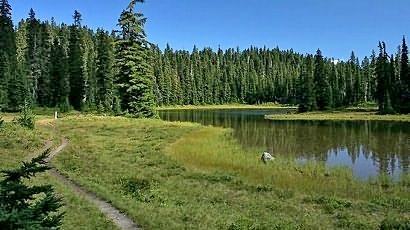 Junction Lake in Indian Heaven
How to get there:
NEW!
Click for PDF Directions Map of this Hike
From Portland, OR
From Portland, travel east on Interstate Hwy 84 to Exit 64 at Hood River. Turn left, and pass under the freeway and cross the toll bridge ($2.00) into Washington state. Turn left onto SR14 and drive approximately 1.5 miles to state road 141 Alt. Turn right onto SR141 Alt. and follow it another 2 miles and merge bearing left onto SR141. Then travel north on SR141 for another 19 miles to Trout Lake and the junction to Mt. Adams Road, which heads north to other hike destinations.

from Trout Lake, WA
Bear left and continue on SR141 westbound out of Trout Lake for about 5.5 miles and you will cross into the Gifford Pinchot National Forest and the road changes to Forest Road 24. Continue westward on FR24 for another 2.5 miles and you will come to the junction where FR24 turns north. Continue westward on FR24 for another 2.5 miles and you will come to the junction where FR24 turns north, but you continue straight onto Forest Road 60. Continue west on FR60 for another 3.7 miles to the junction of Forest Road 6035. Turn north onto FR6035 and follow it another 4.1 miles to the trailhead for this hike.