Length: 13 mi RT
Elevation Change: 2100' gain
Season: Summer thru Fall
Difficulty: Difficult
Permit: NW Forest Pass Required
Features:

NEW!
Click for PDF Topo Map of this Hike

This area and trail is named after John Dark who built a cabin in the meadows in 1895 while prospecting in the area. Take a look at the huge boulders in Dark Creek as you're hiking. These are excellent examples of what melting glaciers can leave behind.

You park along Forest Road 23 just south of where it crosses the Cispus River. When I hiked this trail, there was an extremely large log across the creek upon which you could easily walk across the creek. Hopefully, it is still there.

Be aware that this area is open to motorized vehicles, so you are likely to encounter motor-bikes, especially when you reach the Juniper Ridge part of the trail.

The trail begins by taking you through a young thick forested area, following an old abandoned road. After about a half mile, however, the trail then turns and follows along the south bank of the creek. At about a mile and a half, the trail crosses the creek, and this can be a real challenge during the snow melt and high runoff season.

It is after you cross the creek that the trail climbs very steeply for the next couple of miles. You will gain over 2000 feet in that time and finally level off as the trail meets the Juniper Ridge Trail, which runs north-south along this ridge. This is the same ridge that you will now follow to Jumbo Peak.

Bear right (or north) and continue to climb steeply until you reach the actual ridgeline. Then you will be above the timberline and have extraordinary views just about any direction you choose to look. In front of you is the mammoth rocky outcropping known as Jumbo Peak.

Continue on the trail towards the peak, and follow it around the west side. Before you get completely around the mountain, you will see on your right an old abandoned trail, climbing steeply to your right. Follow this old trail until you come to an place where you can see over the edge of the steep hillside. Look up to your extreme right and follow this ridgeline to the summit of Jumbo Peak.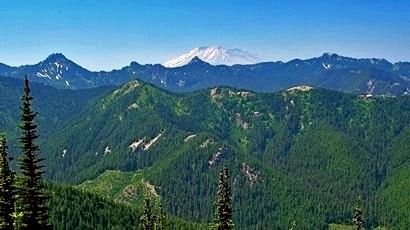 Mt. St. Helens seen from the Dark Divide Trail
How to get there:
NEW!
Click for PDF Directions Map of this Hike
From I-5 junction with US Hwy 12
Travel east on US Hwy 12 for about 48 miles to Randle. From Randle, travel south on State Road 131, crossing the Cowlitz River and in a mile you will come to Cispus Road on your left. Bear left and follow Cispus Road, which become Forest Road 23, for another 5.2 miles and you will pass Forest Road 55 on your left. Continue on FR23 for another mile and you will pass Forest Road 083 on your left, which is the road to Layser Cave. But you keep straight ahead on FR23 for another 1.9 miles. You will then come to the junction of Forest Road 28. Just continue on FR23 for another 6.7 miles and you will come to Forest Road 171 on your left which takes you to the Blue Lake trailhead. But you continue south on SR23 for another 2.8 miles. Then you will come to the junction of Forest Road 21. Bear right and continue on FR23 as you cross the Cispus River. Drive another 4.5 miles to the junction of Forest Road 2324.

Continue on pass FR2324 for another half miles and you will cross the East Canyon Creek bridge, and just a bit further on your right is the parking area and Trailhead for this hike up to Dark Meadow and Juniper Ridge to Jumbo Peak.