Length: 9.6 Miles round trip
Elevation Change: 2300' Elevation gain
Season: Summer thru Fall
Difficulty: Challenging
Permit: NW Forest Pass Required
Features:

NEW!
Click for PDF Topo Map of this Hike

This hike follows Trail #34 off the Forest Road #24. You will hike through fairly dense forest as the trail begins to increase in steepness. At about a mile you will come to a junction of Trail #102. Keep straight ahead as you enter the Indian Heaven Wilderness.

The trail becomes much steeper and you will encounter a few switchbacks. You can get an occasional glimpse of Mt Adams as you make your way up some of these switchbacks. At about 3 miles you will come to the junction with Trail #34A that goes to Wapiki Lake. Bear right and keep climbing steeply toward the ridge above the lake.

As the trail nears the summit of the ridge above Wapiki Lake, you will be able to enjoy some of the best vistas in the entire wilderness. Mt Adams is to the northeast, Mt Hood is to the southeast, and Wapiki Lake is directly below you.

The trail begins a slow descent as it nears the base of Lemei Rock. On this CD Guide I do not describe how to climb the rock. Rather, I depict hiking up to its base and ridge line which is just northeast of the peak itself.

From this easily accessible ridge line you can enjoy views of Mt St Helens to the west, Mt Rainier to the north, and Mt Adams to the northeast.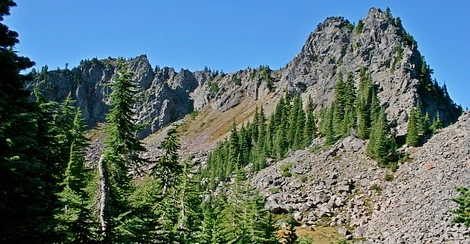 Lemei Rock
How to get there:
NEW!
Click for PDF Directions Map of this Hike
From Portland, OR
From Portland, travel east on Interstate Hwy 84 to Exit 64 at Hood River. Turn left, and pass under the freeway and cross the toll bridge ($2.00) into Washington state. Turn left onto SR14 and drive approximately 1.5 miles to state road 141 Alt. Turn right onto SR141 Alt. and follow it another 2 miles and merge bearing left onto SR141. Then travel north on SR141 for another 19 miles to Trout Lake and the junction to Mt. Adams Road, which heads north to other hike destinations.

from Trout Lake, WA
Bear left and continue on SR141 westbound out of Trout Lake for about 5.5 miles and you will cross into the Gifford Pinchot National Forest and the road changes to Forest Road 24. Continue westward on FR24 for another 2.5 miles and you will come to the junction where FR24 turns north. Turn right and continue to follow FR24 north for another 5 miles and you will pass the trailhead for Wapiki Lake and Lemei Rock.