Length: 5.5 Miles round trip
Elevation Change: 1200' Elevation gain
Season: Summer thru Fall
Difficulty: Moderate
Permit: NW Forest Pass Required
Features:

NEW!
Click for PDF Topo Map of this Hike

This is another hike that begins in the Cultus Creek Campground. Follow Trail #33 as it climbs steeply out of the valley. In the first mile you will gain several hundred feet in elevation. A few well placed switchbacks make the climb easier. At about 1 mile you will come to a sharp switchback with a view. From here you will be treated to an outstanding view of Mt Adams to the northeast, with Sleeping Beauty just below it to the right. The Goat Rocks can be seen to the north, and Mt Rainier to the northeast.

The trail climbs more gently for the next mile as it wanders in and out of forested areas. At about 2 miles you will be right below the ridge line of Bird Mountain. A half mile later you will come to the junction of Trail #33A which takes you to Deep Lake.

The trail to deep lake wanders up and down and in and out of forested areas before it reaches the lake. When you come to the lake, take time to explore all shorelines. The best views are probably from the south and southeast side of the lake, where you can see Mt Adams peeking over the forested northern shore of the lake.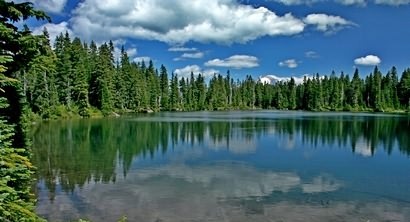 Mt. Adams rises above Deep Lake
How to get there:
NEW!
Click for PDF Directions Map of this Hike
From Portland, OR
From Portland, travel east on Interstate Hwy 84 to Exit 64 at Hood River. Turn left, and pass under the freeway and cross the toll bridge ($2.00) into Washington state. Turn left onto SR14 and drive approximately 1.5 miles to state road 141 Alt. Turn right onto SR141 Alt. and follow it another 2 miles and merge bearing left onto SR141. Then travel north on SR141 for another 19 miles to Trout Lake and the junction to Mt. Adams Road, which heads north to other hike destinations.

from Trout Lake, WA
Bear left and continue on SR141 westbound out of Trout Lake for about 5.5 miles and you will cross into the Gifford Pinchot National Forest and the road changes to Forest Road 24. Continue westward on FR24 for another 2.5 miles and you will come to the junction where FR24 turns north. Turn right and continue to follow FR24 north for another 5 miles and you will pass the trailhead for Wapiki Lake. Continue on SR24 for another 4 miles and you will come to Cultus Campground on your left. Enter the campground and look for the parking area and trailhead for this hike.