Length: 5.8 Miles round trip
Elevation Change: 800' Elevation gain
Season: Summer thru Fall
Difficulty: Moderate
Permit: NW Forest Pass Required
Features:

NEW!
Click for PDF Topo Map of this Hike

This hike begins off Forest Road #24 and follows the Pacific Crest Trail #2000 as it heads south gently winding in and out of lightly forested areas. At about a half mile the trail begins to climb more steeply and is surrounded by dense forest.

At about a mile and a half you will come to a junction for Trail #107. Leave the PCT #2000 and continue on Trail #107 as it climbs more steeply up the north side of Sawtooth Mountain. In a short distance you will come to a switchback with a view of Mt Adams and the surrounding terrain.

Continue climbing and in about another half mile you will break out into the open on a steep cliffy area of the mountain. Because Sawtooth Mtn is so steep, the trail never actually goes to the top, but rather parallels the ridge line as it travels south. You are blessed with a great many wonderful vistas along this portion of the hike. You will see Mt St Helens to the west, and Mt Adams to the northeast, and Mt Hood peeking over the horizon to the south.

Then the trail descends through a couple of switchbacks and enters the dense forest again. You will then come to the junction of PCT #2000. Take a sharp right onto the PCT and head back north toward the trail head where you began this hike.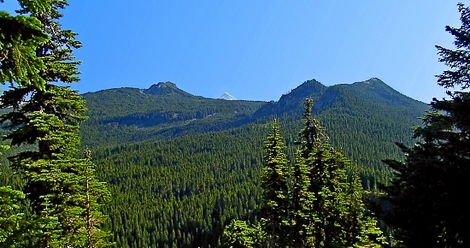 Looking south from the Sawtooth Mountain trail
How to get there:
NEW!
Click for PDF Directions Map of this Hike
From Portland, OR
From Portland, travel east on Interstate Hwy 84 to Exit 44 to Cascade Locks. Exit the freeway and cross over the Columbia River into Washington via the Bridge of the Gods. Then turn right, or east, and head east through Stevenson, Washington to the intersection of the Wind River Highway to Carson, Washington. Bear left onto the Wind River Highway which will take you through Carson, Washington.

From Vancouver, WA
If however, you plan to approach this hike from the Columbia River Gorge area, then begin at I-205 in Vancouver, Washington and head east along SR14 for about 41 miles to the exit to Carson, WA via the Wind River Highway.

Follow the Wind River Hwy north through Carson. In 7.5 miles you will pass through the little community of Stabler, and in another 5.8 miles you will come to the junction of Forest Road 30. Turn right onto FR30 and follow this road for 13.2 miles north along the Wind River and then up a steep incline and onto a plateau where you will come to the junction of the Curly Creek Road. Continue north on FR30 for another 5.1 miles and you will come to the junction of Forest Road 420. Continue north on FR30 for another 5.5 miles and you will come to the junction of Forest Road 24. Bear right onto FR24 and follow it for about a mile and you will come to the trailhead for this hike, which is the PCT.

From Hood River, OR
From Hood River cross over the toll bridge ($2.00) on the Columbia River to the junction with SR14. Turn left onto SR14 and drive approximately 1.5 miles to state road 141 Alt. Turn right onto SR141 Alt. and follow it another 2 miles and merge bearing left onto SR141. Then travel north on SR141 for another 19 miles to Trout Lake and the junction to Forest Road 23, which heads north to other destinations.

from Trout Lake, WA
Bear left and continue on SR141 westbound out of Trout Lake for about 5.5 miles and you will cross into the Gifford Pinchot National Forest and the road changes to Forest Road 24. Continue westward on FR24 for another 2.5 miles and you will come to the junction where FR24 turns north. Turn right and continue to follow FR24 north for another 5 miles and you will pass the trailhead for Wapiki Lake. Continue on SR24 for another 4 miles and you will come to Cultus Campground on your left. Continue on for another 3.5 miles and you will come to the parking area for this hike, where the Pacific Crest Trail crosses FR24.