Length: 8.3 Miles round trip
Elevation Change: 2015' Elevation gain
Season: Late Spring thru Fall
Difficulty: Challenging
Permit: Discovery Pass Required
GPS: N45 43.344, W122 16.164
Latitude: 45.7224
Longitude: -122.2694
Features:

NEW!
Click for PDF Topo Map of this Hike

This is probably the most common approach to hiking Silver Star Mountain. The trail begins along Forest Road #1200 at the saddle between Larch Mountain and Silver Star. The trail begins to climb fairly steep at first. In about a quarter mile you will come to a junction. For this hike description, I took the left option.

The trail is not steep at this point and goes through rather dense new-growth forest and shrubs. In about a half mile you begin to break out into open areas with fantastic views of Silver Star Mtn, Pyramid Butte, and Sturgeon Rock.

At about 2 miles you will cross a small stream on a small bridge. There is a falls a short distance downstream from the bridge, but no trail access. The trail begins to climb quite steeply at this point.

At a little over 3 miles you will come to an old road which the trail now follows all the way to the top of Silver Star Mtn. As you hike up this part of the trail you will have views of Pyramid Butte just south of you and of Larch Mtn to the southwest.

Silver Star Mountain is covered with old roads that were once used as access to the fire lookout on top of the mountain. In about another mile and a half you will come to a junction of some of these roads. Bear a sharp left for a short distance, then at the next junction, bear a sharp right and follow this old road to the saddle between the two summits of the mountain. The northern summit is the higher.

Upon return, retrace your steps through the first 2 junctions then follow the road straight ahead to Trail #180F. Follow this trail/old road bed back down the mountain. The trail will take you right beneath Pyramid Butte. In season this entire hike is a walk through a fantastic floral garden.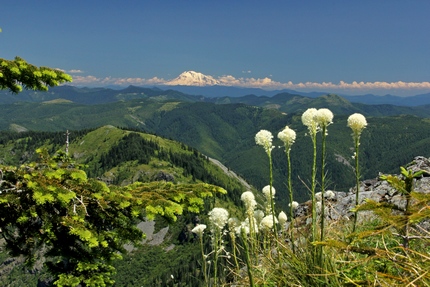 Mt. Adams as seen from the summit of Silver Star Mountain
How to get there:
NEW!
Click for PDF Directions Map of this Hike
from Battle Ground, WA
Travel north from Battle Ground, WA on SR503 for approximately 5.6 miles to the Lucia Falls Road. Turn right and follow this road for about 14 miles east to the Sunset Falls Road. Turn right and travel east on the Sunset Falls Road for 2 miles, where it intersects the Dole Valley Road. Turn right onto the Dole Valley Road, and cross the East Fork of the Lewis River and head south for about 5.4 miles.

Continue straight ahead on Forest Road 1200 for another 4.9 miles and you will come to a saddle that is situated between Silver Star Mtn to the east and Larch Mountain to the west. Here you will see the trailhead for this hike.