Length: 3/10 Miles round trip
Elevation Change: Almost No Elevation gain/loss
Season: Year Round
Difficulty: Easy with wheelchair access
Permit: NW Forest Pass Required

Volcano Alert Call this number to see if this trail is closed: 360-449-7800

Features:

NEW!
Click for PDF Topo Map of this Hike

This boardwalk trail is located through a 1900 year old lava flow. The scenic loop takes you to many examples of the vertical molds left behind when hot lava flowed through a living forest and surrounded the base of the trees. After the trees burned up, there was a hole left where they had been, and those holes, or molds, are visible to us today.

There are even some horizontal molds where the lave flowed over fallen trees, and when they burned up, a holes were left in there place. Some of these holes are large enough for visitors to crawl through.

As you can imagine, this area is extremely fragile, so please walk only where indicated.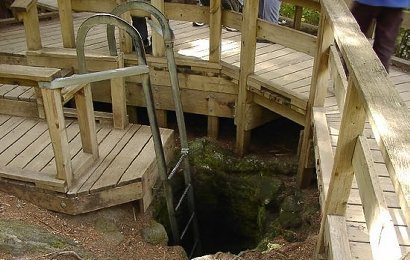 A tree cast where the lava burn away the tree
How to get there:
NEW!
Click for PDF Directions Map of this Hike
From Woodland, WA
From the junction with I-5 follow SR503 east from Woodland, WA approximately 23 miles to the junction of the Lewis River Road with SR503. Continue east on the Lewis River Road another 4.4 miles to the junction of Forest Road 81 just before you get to Cougar. Continue east through Cougar on the Lewis River Road, which becomes Forest Road 90, for about 7.4 miles to the junction of Forest Roads 90 and 83. Turn left on FR83. In about 1.7 miles you will come to Forest Road 8303, which leads to the Trail of Two Forests Interpretive Site. Turn left on FR8303 and follow it for about a quarter mile to the entrance and parking area for this hike.