Length: 5 Miles round trip
Elevation Change: 1700' Elevation gain
Season: Summer thru Fall
Difficulty: Challenging
Permit: NW Forest Pass Required
Features:

NEW!
Click for PDF Topo Map of this Hike

This hike begins off Forest Road #171 which is off Forest Road #23. The trail begins an immediate and very steep climb. The trail is so steep in places that steps have been installed to make the climb possible.

The hike begins and remains in a dense forest most of the time. There are occasional views during switchbacks and great views at the very end when you reach Blue Lake.

Blue Lake has a motorized trail to it that is separate from this trail. You can hike in peace, but when you get to the lake you might be greeted with motorbikes.

This hike is very steep, but not all that long. Much of the hike follows the stream that comes out of Blue Lake. This offers fine scenery with small falls and cascades. Wildflowers are abundant in season.

Just before you reach the lake, you will cross a bridge over the stream you have been following only to cross it again at the lake. When you arrive at the lake there are only a couple of places where you can easily reach the water. They are obvious and offer excellent views.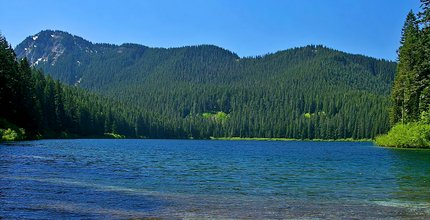 Blue Lake
How to get there:
NEW!
Click for PDF Directions Map of this Hike
From I-5 junction with US Hwy 12
Travel east on US Hwy 12 for about 48 miles to Randle. From Randle, travel south on State Road 131, crossing the Cowlitz River and in a mile you will come to Cispus Road on your left. Bear left and follow Cispus Road, which become Forest Road 23, for another 5.2 miles and you will pass Forest Road 55 on your left. Continue on FR23 for another mile and you will pass Forest Road 083 on your left, which is the road to Layser Cave. But you keep straight ahead on FR23 for another 1.9 miles. You will then come to the junction of Forest Road 28. Just continue on FR23 for another 6.7 miles and you will come to Forest Road 171 on your left. Turn left and follow this steep road about a half mile to the trailhead for Blue Lake.