Length: 3.4 Miles round trip
Elevation Change: 1000' Elevation gain
Season: Summer thru Fall
Difficulty: Moderate
Permit: No Pass Requirement
Features:

NEW!
Click for PDF Topo Map of this Hike

This hike can begin in a number of places, but for this guide, I began the hike on Forest Road #2904. The first mile of this hike is on Trail #294, which is open to motorized vehicles. The last .7 miles is for foot travel only.

As you leave the parking area the trail climbs gently in dense forest. The hike can be a bit challenging with the motorbike V shaped trail. But its not bad and the hike is worth it.

At about 1 mile you will come to the junction of Trail #294A which you need to take to the top of Tongue Mountain. The trail climbs gently at first, then begins a series of steeper switchbacks. It is at this point that you walk out of the dense forest and into the open.

Now the views begin. This short hike offers some of the best views per mile of any hike in the Gifford. Each switchback that takes you higher brings more outstanding views.

The trail actually takes you to the saddle between two parts of Tongue Mountain. The north side of the mountain is NOT something any person should attempt without technical gear and experience. The south side on the other hand is quite safe as long as you stay on the trail.

The last 100 feet is steep and a bit imposing. But you will find the top large and safe. Just keep away from the edges of the cliffs. The views of Mt Rainier, Mt Adams, and Mt St Helens are outstanding and very much worth the effort.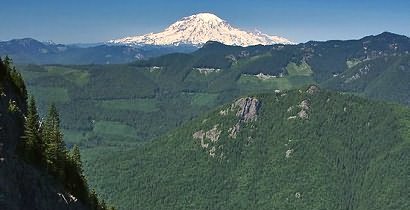 Mt Adams as seen from the summit of Tongue Mountain
How to get there:
NEW!
Click for PDF Directions Map of this Hike
From I-5 junction with US Hwy 12
Travel east on US Hwy 12 for about 48 miles to Randle. From Randle, travel south on State Road 131, crossing the Cowlitz River and in a mile you will come to Cispus Road on your left. Bear left and follow Cispus Road, which become Forest Road 23, for another 5.2 miles and you will pass Forest Road 55 on your left. Continue on FR23 for another mile and you will pass Forest Road 083 on your left, which is the road to Layser Cave. But you keep straight ahead on FR23 for another 1.9 miles. You will then come to the junction of Forest Road 28. Turn right on FR28 and cross the Cispus River. A mile from SR23 you will come to the junction of Forest Road 29. Continue south on SR29 for another 3.7 miles and you will come to Forest Road 2904 on your left. Turn left onto FR2904 and follow it up a steep and bumpy 4 miles to a saddle where you will see the Juniper Ridge trail crossing SR2904. Park here to hike to Tongue Mountain to the north or Juniper Peak to the south.