Length: 1/4 mile round trip
Elevation Change: 100' Elevation gain / 100' loss
Season: Spring thru Fall
Difficulty: Easy
Permit: NW Forest Pass Required
Features:

NEW!
Click for PDF Topo Map of this Hike

This hike begins on Forest Road #2300.084. Actually, this should be called a walk, not a hike. It is only 800 feet from the parking area to the entrance of the cave.

Layser Cave is one of the most significant archaeological sites in western Washington. The cave was discovered by forest worker, Tim Layser in 1982.

The cave is only about 60 x 40 feet in size. Experts have determined that the cave was used for thousands of years by native peoples dating back as much as 5000 years. The cave appeared to be abandoned with no apparent cause over 300 years ago.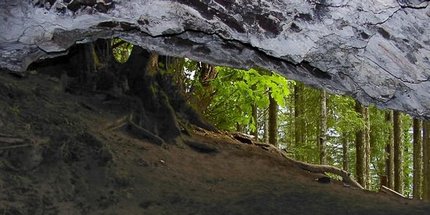 Looking out of Layser Cave
How to get there:
NEW!
Click for PDF Directions Map of this Hike
From I-5 junction with US Hwy 12
Travel east on US Hwy 12 for about 48 miles to Randle. From Randle, travel south on State Road 131, crossing the Cowlitz River and in a mile you will come to Cispus Road on your left. Bear left and follow Cispus Road, which become Forest Road 23, for another 5.2 miles and you will pass Forest Road 55 on your left. Continue on another mile and you will find Forest Road 083 on your left. Turn left onto FR083 and follow it uphill for about 1.2 miles. You will come to a large sweeping switchback, where you can park in the inside area of the switchback. The trailhead for this hike is just across the road.