Length: 3.5 miles round trip
Elevation Change: 500' gain
Season: Year Round
Difficulty: Easy
Permit: NW Forest Pass Not Required
GPS: N45 41.6292, W121 21.0396
Latitude: 45.69382
Longitude: -121.35066
Features:

This hike begins and ends at the parking lot for the Memaloose Overlook Viewpoint. The trail begin south of old Highway 30 across the road from the parking area. There are no signs at the beginning of the trail; just a path. The hike takes you through a moderate oak forest with occasional evergreens. About one mile into the hike the trail comes to a small stream where the nebulous junction begins. Here you can choose the hill you wish to hike first; Marsh Hill to the left or Chetfield Hill to the right. Both hikes are an up and back adventure. Bang for the buck, this hike is spectacular in April and May for wildflowers.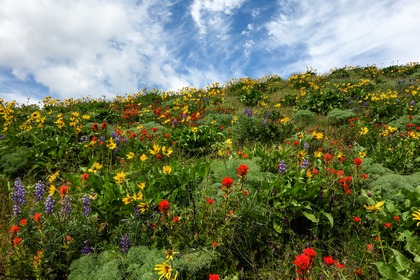 View of the spectacular wild flowers on Chatfield Hill