Length: 3.5
Elevation Change: 400' gain
Season: Almost Year Round
Difficulty: Easy
Permit: Pass Not Required
GPS: N45 42.6282, W121 21.7284
Latitude: 45.71047
Longitude: -121.36214
Features:

NEW!
Click for PDF Topo Map of this Hike
Note: Please be aware that the area in yellow on thie above map is closed to the public annually, starting Febuary 1 to July 15 to protect the Peregrine Falcon.



The Catherine Creek area is becoming very popular among hikers as they discover the incredible floral displays that are seen here each early spring. Also, there is an excellent Universal Access Trail way for the disabled to gain access to the wonders of the Columbia River Gorge and the floral displays often found only on more difficult terrain.

The map above is a humble representation of where I took the photos included in this guide, and is not by any means accurate or to be used for navigation purposes. But the photos will give you an enticing view of the Catherine Creek area and hopefully will inspire you to venture forth on your own excursion and find the rich rewards available in this newly developed area.

Be aware that Catherine Creek is the area where we expect to see the very first spring flowers every year. And in late February through June you can expect to see a new set of flowers about ever 2 weeks. Below is an example of the beauty that is displayed in a Bitterroot Wildflower.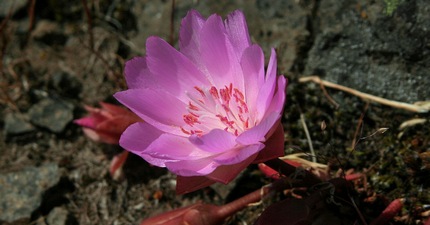 Bitterroot Wildflower at Catherine Creek
How to get there:

Cross the Hood River Bridge ($2 toll) and turn right on WA Highway 14. Drive 5.8 miles to Old Highway 8. Turn left on Old Highway 8, which is also County Road 1230. Drive east on this road (which is an earlier version of today's WA Highway 14) for about 1 1/2 miles to the gravel parking area on the left/north side of the road. The universal access trail takes off to the right/south (downhill from the road). The rock arch hike and others begin on left or north side of the road.

Old Highway 8 continues eastward into Lyle, creating alternate routes to/from the east.