Length: 2.6 mile loop
Elevation Change: 700' gain
Season: Spring thru Fall
Difficulty: Moderate due to extreme steepness of trail
Permit: NW Forest Pass Required
Features:

NEW!
Click for PDF Topo Map of this Hike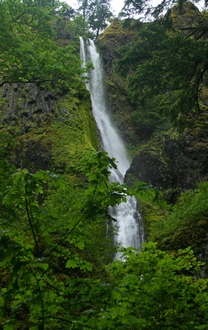 This can be an easy gentle walk to a number of lovely waterfalls. However, if you decide to do the upper loop, then be prepared for an extremely steep trail.

The loop trail takes you high above the freeway to a number of overlooks with excellent views of the Columbia River Gorge. Wildflowers abound in spring and early summer. Be very careful as part of this trail is EXTREMELY STEEP.
How to get there:

Starvation Creek Trailhead: Traveling east on I-84, take Exit #55/Starvation Creek State Park and Rest Area (eastbound exit only).

Traveling west on I-84, you'll continue past Exit #55 to Exit #51/Wyeth and come back east.

The Starvation Ridge and Mt. Defiance trails begin at the west end of the parking lot by walking alongside the freeway. Starvation Creek Falls is east of the restrooms.