Length: 17.0 miles round trip
Elevation Change: 4500' gain
Season: Summer thru early Fall until snowfall
Difficulty: Very Difficult due to length of hike and elevation gained
Permit: NW Forest Pass Required
Features:

NEW!
Click for PDF Topo Map of this Hike

This is a long hike with lots of elevation gain. There is only one water source along the way of any significance. The hike starts at the Wahclella Falls trail head, but not the Wahclella Falls trail.

Walk back toward the freeway, and you will see a trail taking off above the parking lot area. You will walk about a mile when you will come out on a service road. Walk the service road south for about another mile and you will come to the Tanner Ridge/Butte trail head sign.

At this point there are a series of nice waterfalls as you begin you climb up Tanner Ridge. Follow Trail #401 for a little over two miles, and you will come to the junction of Trail #401D to Wauna Point. Keep right and continue the climb up Tanner Ridge. In another couple of miles you will come to the junction of Trail #448 which leads back down the canyon toward Tanner Creek and back out to where you began this journey. Continue on a brief distance and you come to the junction to Dublin Lake. The lake is about a half mile down a very steep grade.

However, as you continue toward Tanner Butte, you will eventually come to an abandoned road which the trail follows nearly the balance of the hike. Finally you will come out into some open areas and begin to experience some viewpoints, one of which is of Tanner Butte itself. This trail you are on actually continues all the way down to Eagle Creek, but you will come to a cutoff trail to the top of Tanner Butte. It is well marked, but the trail isn't. The views from Tanner Butte on a clear day make this long hike worth it.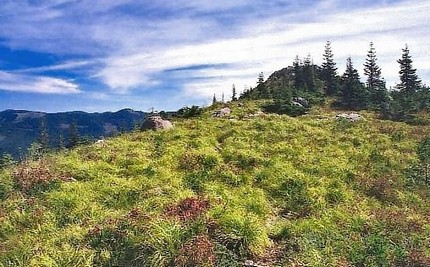 Tanner Butte
How to get there:

Wahclella Falls/Toothrock Trailhead: From I-84, take Exit #40/Bonneville Dam. Turn south at the stop sign and drive about 100 feet. Stay to the right, taking you to Wahclella Falls trailhead. Left takes you to Toothrock trailhead.

As with Munra Point, you need to walk back towards the freeway to the road that heads east to the Toothrock Trailhead. Just as you begin to walk in that direction, you will see the trailhead sign to Tanner Butte (and Dublin Lake).