Length: 2 miles RT
Elevation Change: 300' gain
Season: Year Round
Difficulty: Easy
Permit: NW Forest Pass Required
Features:

NEW!
Click for PDF Topo Map of this Hike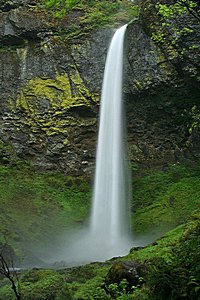 This is one of the many true gems in the Great Columbia River Gorge.

Start the hike at the John B Yeon State Park entrance. The trail to Elowah Falls is clearly marked. After a short walk west, the trail makes an extreme left turn and in just a few feet you will come to the junction of Trail #400, which heads west toward Nesmith Point, and east toward Elowah Falls. Go east.

Follow Trail #400 through dense forest as the trail climbs to the junction to McCord Creek Falls. Pass this point and begin the descent into McCord Creek gorge and to the bottom of Elowah Falls.

There is a fine bridge just below the falls, and if you cross over, and look back, you can get some of your best views of Elowah Falls.
How to get there:

John B Yeon Trailhead: Traveling east on I-84, take Exit #35/Ainsworth. Turn left at the stop sign, then immediately turn right onto the Frontage Rd. Drive east on Frontage Rd for 2.1 miles and turn right into the trailhead parking lot. The lot will be just before the road re-enters the highway.

Traveling west on I-84, take Exit #37/Warrendale. Head west on Warrendale Road for about 1/4 mile to a stop sign. Turn left, go under the freeway and turn left again onto Frontage Rd. Drive 1/4 mile east to the trailhead parking lot just before the road re-enters the highway.