Length: 10.2 miles round trip
Elevation Change: 3706' gain
Season: Summer thru fall
Difficulty: Difficult due to steepness of trail
Permit: NW Forest Pass Required
Features:

NEW!
Click for PDF Topo Map of this Hike

This extremely steep hike offers much to the hiking enthusiast, like sore leg muscles, pounding heart, gasping lungs, tripping feet, blisters where you didn't know you could get blisters, and oh yes, did I mention sore leg muscles? Well, if this is your cup of tea, go for it! Start at the Elowah Falls trail head, and after just a short walk you will come to the junction of the old Trail #400 (which washed out a few years ago). Follow the signs to Nesmith Point and you'll be OK. The Trail #428 offers a gentle climb for about a half mile or so before turning the world on its edge. In about 2.5 miles you climb almost 3000'. Then you continue climbing for another mile and a half to the junction of this trail with Trail #425 (remember Trail #425 from Rock of Ages?) After this junction it is a short hop, skip, and a jump (OK a short crawl) to the top of Nesmith Point and the truly great view that made this nightmare, I mean hike worth it. Be sure your breaks are in good condition for the trip down, cause you know you will need them.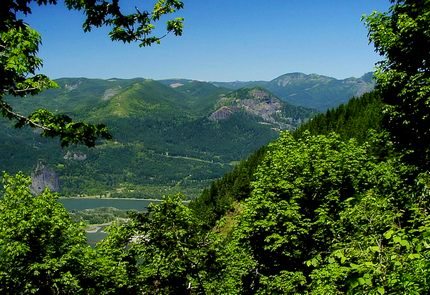 Looking north across the Columbia River Gorge
from the Nesmith Point trail
How to get there:

John B Yeon Trailhead: Traveling east on I-84, take Exit #35/Ainsworth. Turn left at the stop sign, then immediately turn right onto the Frontage Rd. Drive east on Frontage Rd for 2.1 miles and turn right into the trailhead parking lot. The lot will be just before the road re-enters the highway.

Traveling west on I-84, take Exit #37/Warrendale. Head west on Warrendale Road for about 1/4 mile to a stop sign. Turn left, go under the freeway and turn left again onto Frontage Rd. Drive 1/4 mile east to the trailhead parking lot just before the road re-enters the highway.