Length: 8.4 miles round trip
Elevation Change: 2368'
Season: Spring thru Fall
Difficulty: Challenging due to steepness of trail and length of hike
Permit: Not Required
Features:

NEW!
Click for PDF Topo Map of this Hike

This paved trail takes the hiker across the bridge between the lower and upper falls, then continues steeply through mostly wooded areas with occasional views and many switchbacks to the top of the ridge.

The trail continues downhill for a short distance then after the turnoff to the view point at the top of Multnomah Falls, the trail becomes unpaved. There is a large stone bridge across Multnomah Creek, then the trail begins to climb again but not as steep. After crossing the bridge there is a junction to the right to the Perdition Trail which has been closed for several years due to unsafe conditions.

Continue up Trail #441 for about .8 miles and turn right at the junction to Trail #420. This trail continues uphill for another .8 miles to the junction to Devil's Rest and Trail #420C. Make the sharp left turn onto Trail #420C which then climbs steeply through several switchbacks before leveling off for the next mile. There are several good views along this part of the hike. The last .2 miles of the hike is in a dense wooded area and there is no view at the summit.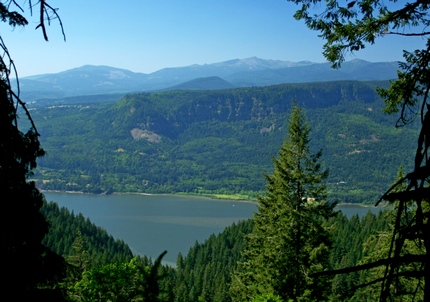 Looking north across the Columbia River Gorge
from a viewpoint along the Devils Rest trail