Length: 15.8 miles round trip
Elevation Change: 4016' gain
Season: Late Spring thru early Fall
Difficulty: Very Difficult - steep and long
Permit: Not Required at Multnomah Falls TH
Features:

NEW!
Click for PDF Topo Map of this Hike

This challenging hike has lots of waterfalls, lots of elevation and lots of miles. Starting at the Multnomah Falls trail head, you hike up past the top of the falls, following Multnomah Creek for about four and a half miles to a junction that allows you to make an excellent loop hike out of this adventure.

Follow Trail #444 for about 2.75 miles where it connects to Trail #424 and leads you to the top of Larch Mountain and Sherrard Point, where you enjoy the only real vistas during this long forested hike. From there follow Trail #441 back down the mountain to Multnomah Falls where you began.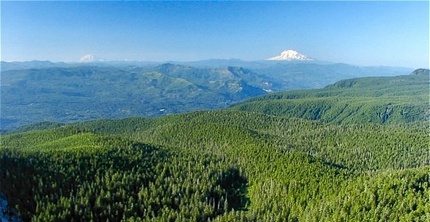 Mt. Rainier and Mt. Adams as seen from Sherrard Point
at the summit of Larch Mountain.
How to get there:

From I-84 take Exit #31/Multnomah Falls. Park in the parking lot and walk under the footbridge to Multnomah Falls Lodge.

Alternatively, take I-84 east to Exit #28/Bridal Veil and drive east on the Historic Columbia River Highway to the Multnomah Falls Lodge parking area.

Coming from the east on I-84, take exit 35 (Ainsworth Park) and drive about 4 miles west on the Historic Highway to reach the Multnomah Falls Lodge parking area and trailhead.

From Portland, due to overcrowding at Multnomah Falls in peak season, we highly recommend for convenience and safety, that you consider using the Gorge Transit bus . The price is low and the convenience is high.