Length: 10 miles one way or 12 mile loop
Elevation Change: 2760' gain
Season: Late spring thru fall
Difficulty: Difficult due to steepness of trail and length of hike
Permit: Not Required
Features:

NEW!
Click for PDF Topo Map of this Hike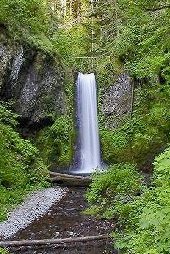 This robust hike takes you past Multnomah Falls and up Multnomah Creek where you are rewarded with many beautiful waterfalls. Turn left at the Franklin Ridge junction and follow the trail through a variety of forest covers and wildflowers in season to the junction to Oneonta Gorge.

By this point you have gained considerable elevation. There are very few viewpoints on this hike, but the forest experience is more than worth it. After descending into Oneonta Gorge, you follow Oneonta Creek past fabulous Triple Falls to the junction where you can either complete the hike one-way by taking the route to Horsetail Falls in which case you will be delighted by Ponytail
Falls, or continue on Gorge Trail #400
back to Multnomah Falls.
How to get there:

From I-84 take Exit #31/Multnomah Falls. Park in the parking lot and walk under the footbridge to Multnomah Falls Lodge.

Alternatively, take I-84 east to Exit #28/Bridal Veil and drive east on the Historic Columbia River Highway to the Multnomah Falls Lodge parking area.

Coming from the east on I-84, take exit 35 (Ainsworth Park) and drive about 4 miles west on the Historic Highway to reach the Multnomah Falls Lodge parking area and trailhead.

From Portland, due to overcrowding at Multnomah Falls in peak season, we highly recommend for convenience and safety, that you consider using the Gorge Transit bus . The price is low and the convenience is high.