Length: 10.7 miles round trip
Elevation Change:
Trail climbs (1620')
descends (480')
and climbs (1168')
before descending (2308')
back down past Angel's Rest and to the trail head.
Season: Spring thru Fall
Difficulty: Difficult due to steep climb and length of hike
Permit: No Pass Required
Features:

NEW!
Click for PDF Topo Map of this Hike

This hike is relatively steep as it climbs through wooded areas and eventually out in the open near the summit of Angel's Rest where there are great vistas of the Columbia River Gorge and the surrounding mountains. After passing the cutoff to Angel's Rest the trail continues uphill to the next junction.

At this point you can go either left or right because you will return to this junction after making a large loop. If you bare left and follow trail #415, you will eventually come to Wahkeena Springs junction. Keep to the right and follow trail #420 to the Devil's Rest turnoff. Follow trail #420C up the hill and along the ridge to Devil's Rest.

Enjoy the views along the trail, because after you reach Devil's Rest, you are in a heavily forested area with no views. Follow the Foxglove trail past Devil's Rest back to trail #415 near Angel's Rest. Return to the trail head on the same trail to took to this junction. The Foxglove trail is less traveled and less maintained.

In season this entire trail route is surrounded by glorious wildflowers. Below is a photo of the early spring flower so common on this hike; the Trillium.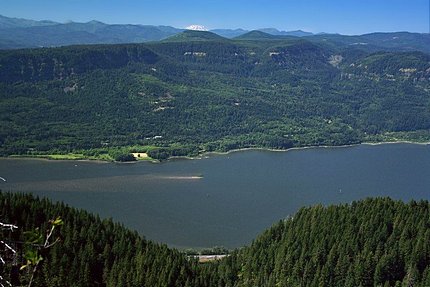 Looking north toward Mt. St. Helens
from the Devils Rest overlook